Among the missionary saints and bishops of the British Isles, St Kentigern stands as one of the most important. During the sixth century, and to the beginning of the seventh century, he was busy bringing the Christian faith to many tribes and peoples across the North and West of England. He is one of the great saints of the British Isles who should be known and venerated by the faithful members of the Coptic Orthodox Church.
St Kentigern was of a noble family, and also had the pet name of Mungo, which means My Dear One. His mother, Teneu, was a princess of the kingdom around Lothian, in the south of Scotland. She fell pregnant outside of marriage by prince Owain mab Urien, and her furious father had her thrown down the cliffside from the top of Traprain Law in the middle of the kingdom. She survived, by the grace of God, and was abandoned in a coracle, or small boat made of branches and hide, and set adrift in the sea.
She drifted across the Firth of Forth and came ashore near Culross, on the Northern coast of the Firth where St Serf had a cave and was ministering and teaching the people of the area. She gave birth to her child there, and called him Kentigern. It was St Serf who called him Mungo, My Dear One. St Serf had a monastery at Culross, and another on an island in the middle of Loch Leven, and a cave where he went to find solitude at Dysart, or Desert, near Kirkcaldy.
While St Kentigern was a child in the monastery, St Serf had a small robin which came to receive food from his hand. One day, the other boys were fighting over the little bird and tore it to pieces by their rough handling. They went to St Serf and told him that it was St Kentigern who had killed the creature. But he took the bird into his young hands and prayed…
Lord Jesus Christ, in whose hand is the breath of all your creatures, rational and irrational, restore to this little bird the breath of life so that your blessed name will be praised forever.
And immediately the bird was restored to life and flew to the hand of St Serf who marvelled and gave thanks to God, and loved St Kentigern even more.
On another occasion, the one who was the cook in the monastery fell ill with a serious disease and died. After he had been placed in the burial chamber there were those who were jealous of St Kentigern and began to press St Serf to ask St Kentigern to pray for the departed man. St Kentigern refused until it was made a matter of obedience, because he felt himself entirely unworthy even to pray for such a thing. Then he was left alone with the body of the cook, and he prayed.
Lord Jesus Christ! You are the life and the resurrection of your own people who believe faithfully in you; the one who kills and makes alive; the one who leads down to the grave and brings back again; the one to whom life and death are servants; the one who awakened Lazarus after four days. Raise up this dead man that your holy name may be glorified over all things, and blessed forever.
After this prayer the dead man was restored to life, and came out of the tomb, still dressed for burial. He spoke of what he had seen, and lived a life of deeper sanctity and devotion for seven more years. When he died the second time it was written on his tomb what had happened to him, and that he had been raised from the dead by the prayer of St Kentigern.
When St Kentigern had reached maturity in the faith and in adulthood, he set off to the area now known as the great city of Glasgow. He left the monastery one night because of the hostility of some and the praise of others. St Serf followed him, but he crossed a river in flood when God made a passage through the waters for him, and St Serf could not follow. They bade each other farewell, and St Kentigern headed to the West, where the calling of God was leading him.
Riderch Hael, the Christian king of this area, known as Strathclyde, asked St Kentigern to settle in his kingdom. On his way into Strathclyde, and following the Roman road, he would have passed the place where a man who had been sick for many years lived, and he had received word from God that St Kentigern would visit him. He waited to receive him and at last it happened as he had been told, and he departed that very day, after having received consolation from St Kentigern, and the divine mysteries.
St Kentigern placed the body of the departed man, Fregus, on a new cart drawn by two wild bulls. He prayed that they would take the body to the place where it should be buried. They set off, with St Kentigern and a great company following, until the stopped at a place called Cathures, which is now modern day Glasgow. Here, in a place with fresh water from a spring, and a view of all the kingdom laid out below, there was a burial ground which had been consecrated by St Ninian in the fifth century, when he had also been engaged in missionary travels, but in which no one yet had been laid. The bulls stopped at this place and would move no further. St Kentigern performed the funeral rites, and Fregus was laid to rest there, the first of many.
He was consecrated bishop in about 540 A.D., and established a cell on the place where the impressive Cathedral of Glasgow still stands, and where he had come to bury Fregus. The king, and the few priests and Christians in the region were unanimous in electing St Kentigern as their bishop and he was consecrated by a bishop from Ireland. He was 25 years old when he began his mission here, and for 13 years he taught the Christian faith and built up a Christian community. Indeed the very name Glasgow, comes from Clasgu, which means the "Dear Family". A large community were attracted by his ascetic life and preaching, but about 553 A.D. there was a change in the kingdom and anti-Christian forces drove him from Strathclyde.
On his journey South he stopped in a clearing in the Northern regions of Cumbria, and set up a cross where he began to preach and teach. He stayed in the area for some time, just outside Keswick, where the site of the Church he built has been replaced over the centuries by larger and grander stone buildings. It is still called Crossthwaite, or the clearing with the cross, and it represents the first church and settlement of what has become the large town of Keswick.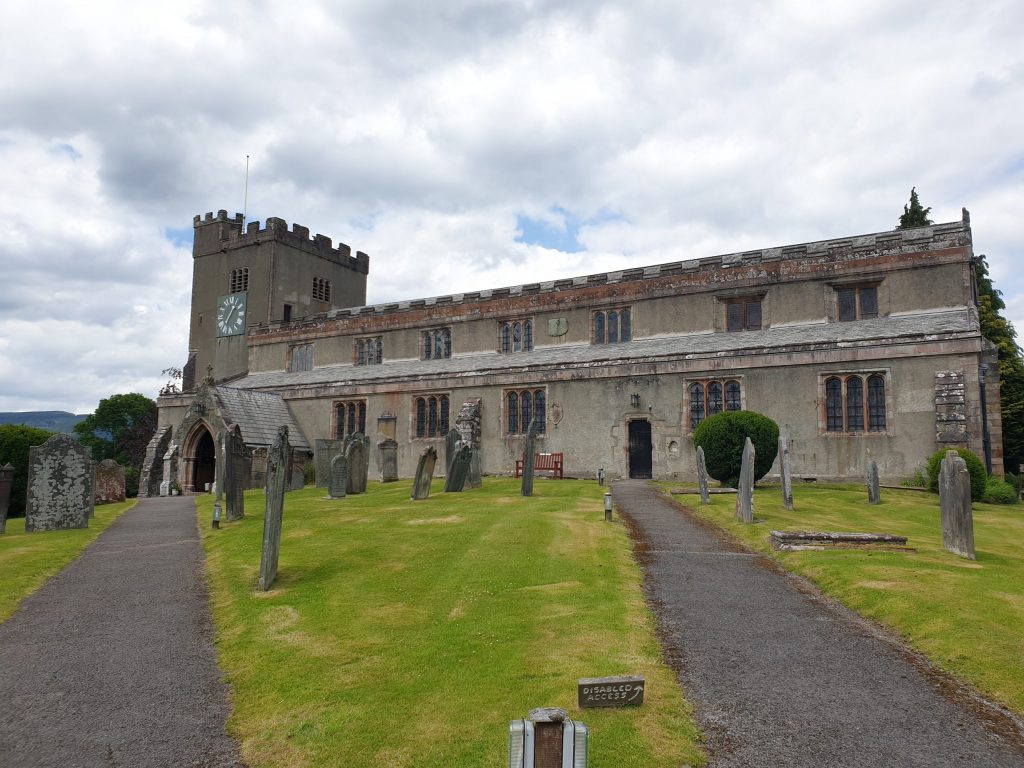 He travelled further South to Wales, where he stayed for a while with St David. His fame spread wide because of his sanctity and Kind Cadwallon or North Wales offered him land to construct a monastery. He set off with a company of monks to the lands of the King, and he examined the estates to see where it might be best to settle. While in this endeavour a wild boar, pure white in colour, rushed out of the forest until it came to St Kentigern. It motioned in such a way that seemed to indicate that it should be followed, ad it led the company down to the bank of the river Elwy where it began to dig with its tusks. It was here that St Kentigern established the large monastery of Llanelwy, or St Asaph's in North Wales. The circular compound of the monastery remains by the side of the river Elwy. One of the monks, Asaph, was made Abbot of the monastery when St Kentigern moved on again, so that the town is named after him, St Asaph's. This is only 25 minutes from our Coptic Orthodox Church in Llandudno.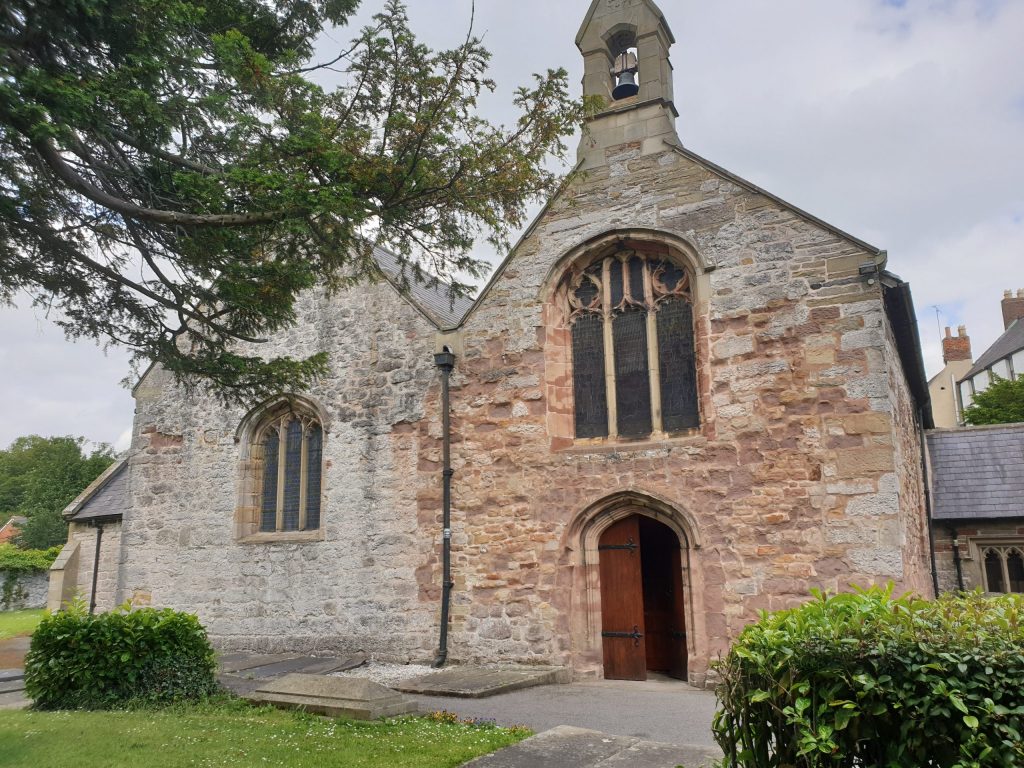 There were a thousand monks and lay brothers in this monastery. One of whom was the boy, Asaph, who was already full of devotion to God from his earliest youth. He was to become Abbot of Llanelwy after St Kentigern.
One day St Kentigern became frozen with frost through praying outside in the Winter. So he father commanded the boy Asaph to carry fire to him, so that he might be warm. And he ran to the oven and asked that coals be given to him. But since he did not have anything in which to carry the live coals, the servant said by way of a joke, "Stretch out your garments if you have the strength to take away these live coals, because I do not have anything in which you may carry them." The holy boy, strong in faith and confident in the holiness of his master, gathered his clothing in his lap with no hesitation and spread it out to receive the living coals. And bringing them to the old man, Asaph cast them down in his presence, and there was no sign of burning or corruption apparent on his clothing. The greatest bewilderment struck all those who were present, because the fire that he had carried in his clothing had in no way consumed the burnable material.
It was during this time that St Kentigern travelled as far as Rome, where he met with St Gregory the Great, who was the Pope of Rome throughout much of his life. He was conformed in his episcopal consecration and returned with many spiritual treasures.
In 573 A.D. further conflict in Cumbria allowed the Christian authority of Riderch Hael to be re-established, and St Kentigern was invited to travel back to Cumbria to strengthen the Christian community there. Indeed, the Christian community there greatly needed his support and encouragement after many years of depredation. He received the letter from king Riderch and was silent for may hours as he had intended to see out the rest of his life in the monastery of Llanelwy.
On the following night, as he bent forward in prayer and consulted the Lord over this matter, an angel of the Lord stood near and a light glittered in the dwelling of the oratory, and striking him on his side, the angel commanded him to rise. And when Kentigern was standing, the heavenly messenger said to him, "Return again to Glasgow and to your church, and in that place you will be a great nation and the Lord will cause you to flourish among your chosen people. You will acquire a holy nation and purchase uncountable people for the Lord your God, and you will attain a perpetual crown from him. For there you will finish your days in good old age, and from this world you will pass over to your Father who is in heaven. In that place your flesh will rest in hope, buried with funeral rites of glory and honour. You will be greatly honoured by the repeated visitations of the people and the display of wonders, until at the last day having received a double stole from the hand of the Lord, you will possess a double reward in the general resurrection." Having said these things, the angelic vision and encouragement ended. And Kentigern, weeping abundantly, offered thanks to the Lord and repeated frequently, "My heart is fixed, O God. My heart is fixed for whatever is pleasing to you.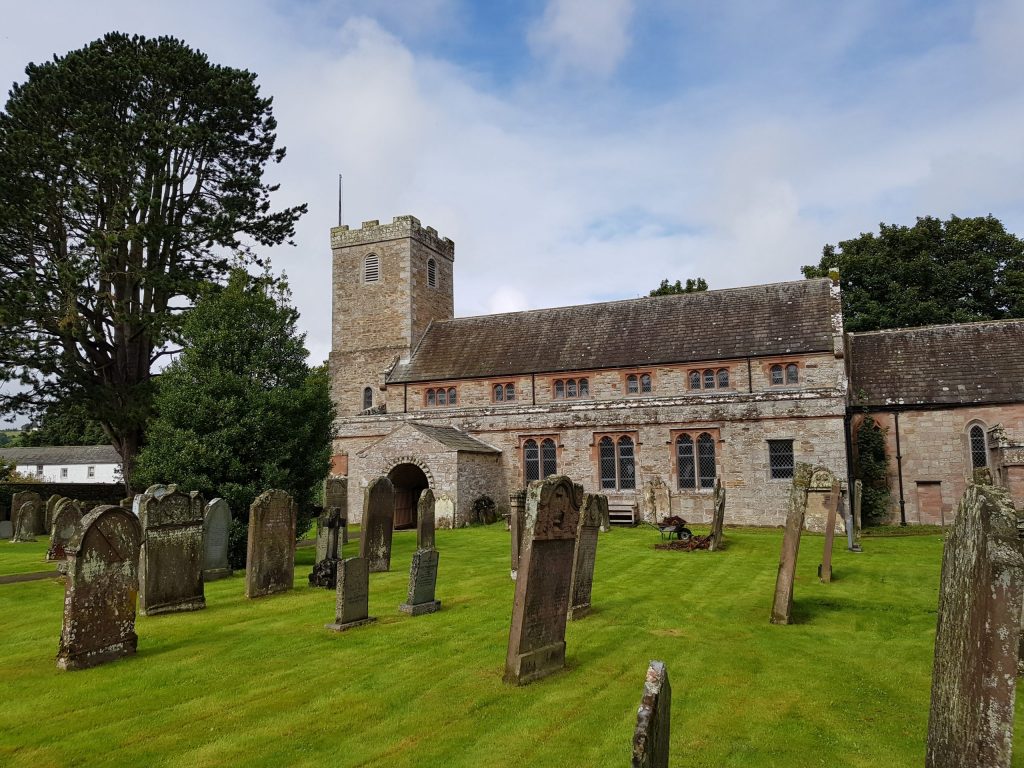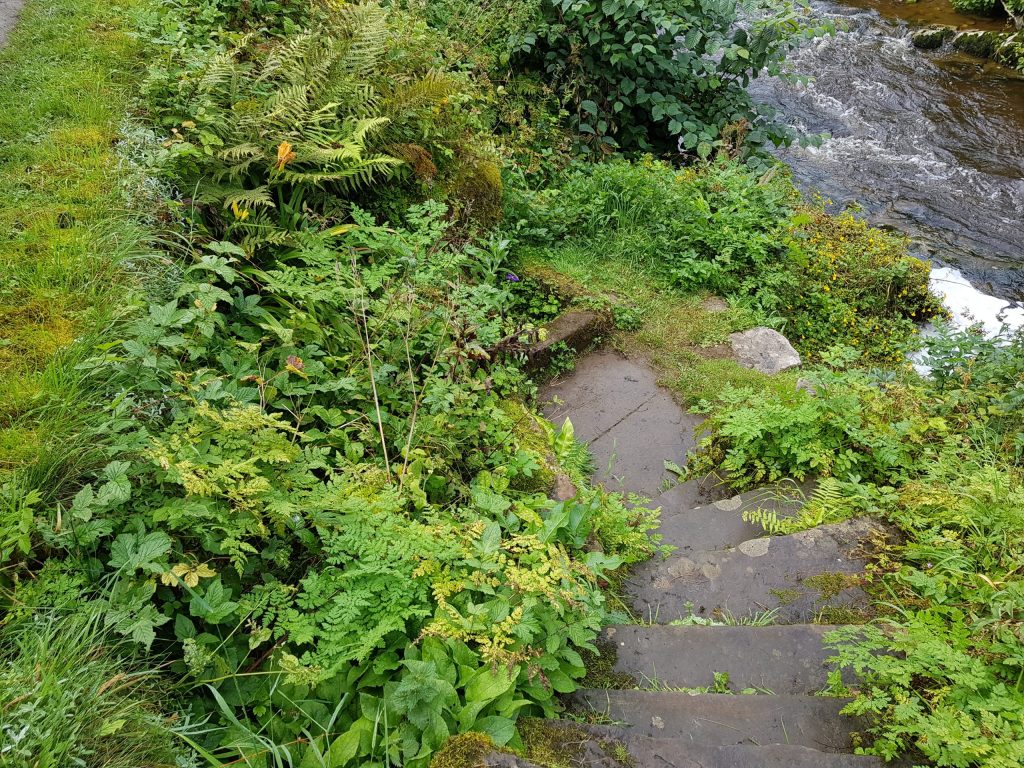 So he set off for Glasgow, and six hundred and sixty five went with him. He was greeted by many of the Christians of the region as he entered Strathclyde, and he preached against paganism at Hoddom, where he settled for a while and made his episcopal centre. The remains of a very ancient monastery from that time have been excavated there. But God caused him to return to Glasgow. In these latter decades of his life he gave himself up to missionary work, preaching the Christian faith, correcting those in error, and sending out disciples in every direction.
It was his custom to erect crosses in all those places where he preached and baptised, and he continued to travel until old age prevented it. He died peacefully and prayerfully on this day in the year 614 A.D. and his holy remains are preserved in their shrine in Glasgow Cathedral.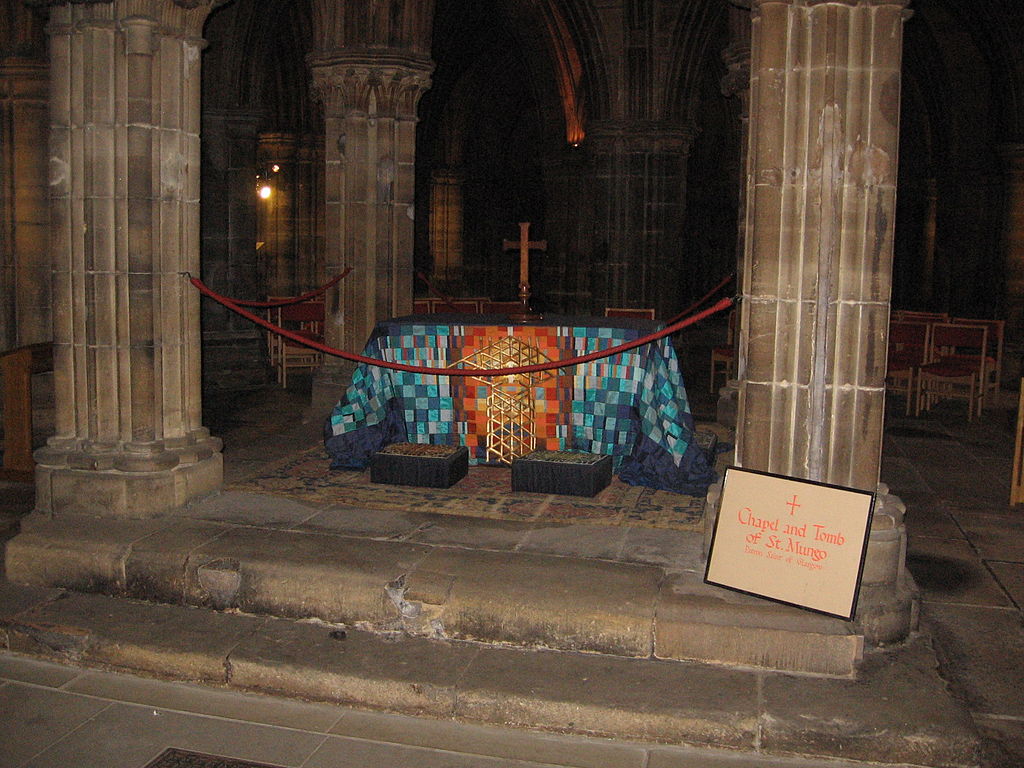 He once prophesied..
The religion of Christian law in the island will be destroyed until its predetermined time. But once more, those who profess Christianity will be restored to their former state, indeed to a better one, by the mercy of God who is the mediator of all things.