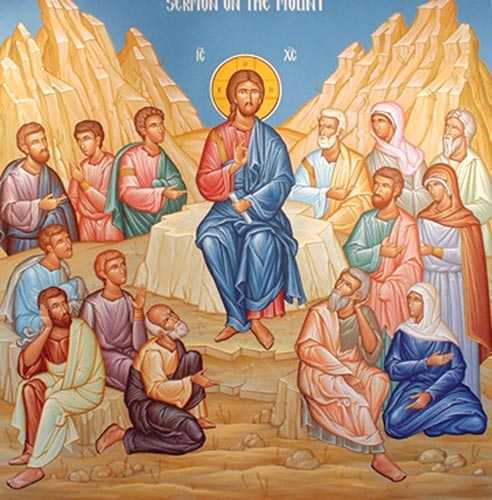 Reflection
It is worth remarking that in the Gospels, almost wherever the Lord Jesus was found there were miracles of healing. Nor do we read about just one or two examples, but of crowds of people flocking to see Jesus, and of multitudes being healed. We should not be so surprised. When the Lord Jesus began his public ministry and had read from the scroll of Isaiah in the synagogue in Capernaum, he had applied to himself the words,
The Spirit of the Lord is on me,
    because he has anointed me to preach good news to the poor.
He has sent me to heal the broken hearted,
    to proclaim release to the captives,
    recovering of sight to the blind,
    to deliver those who are crushed,
and to proclaim the acceptable year of the Lord.
This is not a good man laying out a progressive social policy. This is God himself, entering the world which he had created and which man had spoiled, and proclaiming that he has come to bring healing and restoration. There should be great comfort in this for the person who is seeking to become a Disciple. God has not entered the world for those who think they do not need him, or for those who think they have their life completely organised without him. He has come into the world for those who know they have a problem, have many problems indeed, and are sick with a mental and spiritual illness they cannot cure by themselves.
Just as a doctor can only cure a person who knows they need help, and is honest about their symptoms and sickness. So the divine Physician, the Lord Jesus Christ, can only begin a work of healing, of freedom, of deliverance, when we accept and admit our own need. We do not need to impress God before he will welcome us. He has come just for people like us, with our weakness and failings, so that we can find healing with him and in him. The people all found this in the Lord Jesus. He never turned away those who came to him for help in their need. He will not turn us away, as long as we seek him honestly.
The Centurion knows his need. His servant is seriously ill, and unable to move. But he approaches Christ with humility, knowing that he is not worthy, but with confidence that Christ will hear him, confident that Christ has the power to heal. As Disciples we must do the same. In humility we must express every weakness and failing to Christ as soon as we are aware of our thinking or acting in a way that separates us from God. Yet we do not despair, because Christ came for people like us, to make us into people like him.
Scripture – Matthew 8
1 When he came down from the mountain, great multitudes followed him. 2 Behold, a leper came to him and worshipped him, saying, "Lord, if you want to, you can make me clean." 3 Jesus stretched out his hand and touched him, saying, "I want to. Be made clean." Immediately his leprosy was cleansed. 4 Jesus said to him, "See that you tell nobody; but go, show yourself to the priest, and offer the gift that Moses commanded, as a testimony to them." 5 When he came into Capernaum, a centurion came to him, asking him for help, 6 saying, "Lord, my servant lies in the house paralysed, grievously tormented." 7 Jesus said to him, "I will come and heal him." 8 The centurion answered, "Lord, I'm not worthy for you to come under my roof. Just say the word, and my servant will be healed. 9 For I am also a man under authority, having under myself soldiers. I tell this one, 'Go,' and he goes; and tell another, 'Come,' and he comes; and tell my servant, 'Do this,' and he does it." 10 When Jesus heard it, he marvelled and said to those who followed, "Most certainly I tell you, I haven't found so great a faith, not even in Israel. 11 I tell you that many will come from the east and the west, and will sit down with Abraham, Isaac, and Jacob in the Kingdom of Heaven, 12 but the children of the Kingdom will be thrown out into the outer darkness. There will be weeping and gnashing of teeth." 13 Jesus said to the centurion, "Go your way. Let it be done for you as you have believed." His servant was healed in that hour. 14 When Jesus came into Peter's house, he saw his wife's mother lying sick with a fever. 15 He touched her hand, and the fever left her. So she got up and served him. 16 When evening came, they brought to him many possessed with demons. He cast out the spirits with a word, and healed all who were sick, 17 that it might be fulfilled which was spoken through Isaiah the prophet, saying, "He took our infirmities and bore our diseases." 18 Now when Jesus saw great multitudes around him, he gave the order to depart to the other side. 19 A scribe came and said to him, "Teacher, I will follow you wherever you go." 20 Jesus said to him, "The foxes have holes and the birds of the sky have nests, but the Son of Man has nowhere to lay his head." 21 Another of his disciples said to him, "Lord, allow me first to go and bury my father." 22 But Jesus said to him, "Follow me, and leave the dead to bury their own dead." 23 When he got into a boat, his disciples followed him. 24 Behold, a violent storm came up on the sea, so much that the boat was covered with the waves; but he was asleep. 25 The disciples came to him and woke him up, saying, "Save us, Lord! We are dying!" 26 He said to them, "Why are you fearful, O you of little faith?" Then he got up, rebuked the wind and the sea, and there was a great calm. 27 The men marvelled, saying, "What kind of man is this, that even the wind and the sea obey him?" 28 When he came to the other side, into the country of the Gergesenes, two people possessed by demons met him there, coming out of the tombs, exceedingly fierce, so that nobody could pass that way. 29 Behold, they cried out, saying, "What do we have to do with you, Jesus, Son of God? Have you come here to torment us before the time?" 30 Now there was a herd of many pigs feeding far away from them. 31 The demons begged him, saying, "If you cast us out, permit us to go away into the herd of pigs." 32 He said to them, "Go!" They came out and went into the herd of pigs; and behold, the whole herd of pigs rushed down the cliff into the sea and died in the water. 33 Those who fed them fled and went away into the city and told everything, including what happened to those who were possessed with demons. 34 Behold, all the city came out to meet Jesus. When they saw him, they begged that he would depart from their borders.
From the Fathers
Cyril of Alexandria (376-444 A.D.)
But it is only to the disciples that Jesus "gave orders to cross over to the other side," lest, from the crowds pressing about him, his disciples should be prevented from hearing those very teachings that were most appropriate for them. To the disciples he revealed God's future mysteries more deeply than in the things that were spoken to the crowds only "in parables." Only the disciples had left behind all present goods and followed him through love of learning. He commands them to cross over from temporary things to eternal things, from the earthly to the heavenly, from the carnal to the spiritual.
In this place the question is raised as to whether the honor due God does not take precedence over the duty to honor one's parents. When the two conflict, it is necessary to hold to the one and despise the other, especially if honoring parents gets in the way of pleasing God. The worship of God requires putting God before all other things we think of as precious. In this way we will not, like Cain, be found relegating secondary things to God.
[What does St Cyril say sets apart the Disciple from others who are interested in Jesus? He says that it is because they have left everything behind. This is exactly what the Disciples, the Twelve, had done. Jesus had called them, many of them mending their fishing nets, and they had left everything where it was and followed him. Of course this does not mean that we need to abandon our responsibilities, but it does mean, as St Cyril goes on to say, that we have to put God before everything. We have to put our effort into seeking God and finding him, if we want to cross over to the other side with Christ and learn the spiritual truths and realities that he alone can teach.]
Spirituality
We can return to considering the words of the Lord's Prayer. We have reflected on the words, Our Father, who art in Heaven, hallowed be your name, your Kingdom come. Now we must think about the phrases, your will be done, on earth as it is in Heaven. There are several aspects to these words which we offer as a prayer. Essentially we are asking that God will give us the grace to live in a heavenly way, even in a angelic manner.
What could this mean? In the first place it means that we should be focused on the spiritual and heavenly realities rather than being primarily concerned with earthly things. This does not mean that we do not care about the needs of others, for instance. But it does mean, as we have often seen so far, that we are to make our life with God the priority, whatever that demands of us. It does mean that we should not imagine that simply performing external religious practices is what God ask of us, or what we ask God to make possible for us. We are asking that everything we do be filled with a spiritual and heavenly meaning and value, in the life of God.
But in the second place, certainly we are asking God to give us the strength and insight to overcome the sin and weakness and self-centredness in our lives. We are asking God to help us be and become obedient, choosing that holiness of life which is in accordance with the life of God. St Cyril of Alexandria explains this saying,
The will of God over all is, that the dwellers upon earth should live holy, and piously, and without blame, being washed from all impurity, and diligent in imitating the spiritual beauty of the spirits above in heaven; so that the church on earth, being, as it were, the visible likeness and image of the "church of the firstborn" that is above, may please Christ.
In all things then, we should ask ourselves, am I doing this in obedience to God? Is this the will of God for me now? Am I doing this with my mind and heart set on heavenly things? It is not enough for us to pray these words, if we wish to be Disciples we must use every effort, as God gives us strength, to put these words into practice in the ordinary matters of our daily life, and in resistance to every temptation.
Daily Activity
1. Pray the Lord's Prayer in the morning and evening. Pray with warmth of heart as much as possible.
2. In the morning after praying the Lord's Prayer, read slowly and prayerfully Psalm 1. This is part of the morning devotions in the Coptic Orthodox Church.
Blessed is the man who doesn't walk in the counsel of the wicked,
    nor stand on the path of sinners,
    nor sit in the seat of scoffers;
2 but his delight is in the law. of the Lord
    On his law he meditates day and night.
3 He will be like a tree planted by the streams of water,
    that produces its fruit in its season,
    whose leaf also does not wither.
    Whatever he does shall prosper.
4 The wicked are not so,
    but are like the chaff which the wind drives away.
5 Therefore the wicked shall not stand in the judgment,
    nor sinners in the congregation of the righteous.
6 For the Lord knows the way of the righteous,
    but the way of the wicked shall perish.
3. Do not forget to pray with warmth for those on your list of intercessions, and try to remember them through the day.
4. Continue to pray the Jesus Prayer in a time of quiet 10 times in the morning and in the evening.
History
Ignatius of Antioch was the second Bishop of that great city. He was ordained as bishop in 67 A.D. by the Apostles Peter and Paul. In 107 A.D. he was arrested and sent to Rome where he was martyred in the Colosseum. On the way he wrote letter to many of the Churches in Asia Minor on his route. In these letters he illustrates how the early Church as established by the Apostles was ordered with bishops, priests and deacons.
Be careful therefore to observe only one eucharist (for there is one flesh of our Lord Jesus Christ and one cup unto union in His blood; there is one altar, as there is one bishop, together with the priests and the deacons my fellow-servants), that whatsoever you do, you may do it following after God.
I advise you, be zealous to do all things in godly agreement, the bishop presiding after the likeness of God and the priests after the likeness of the council of the Apostles, with the deacons also who are most dear to me, having been entrusted with the diaconate of Jesus Christ, who was with the Father before the worlds and appeared at the end of time.
Give heed to the bishop, that God also may give heed to you. I am devoted to those who are subject to the bishop, the priests, the deacons. May it be granted me to have my portion with them in the presence of God. Toil together one with another, struggle together, run together, suffer together, lie down together, rise up together, as God's stewards and assessors and ministers.