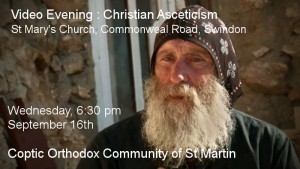 The Coptic Orthodox Community of St Martin, worshipping at St Mary's Church, Commonweal Road, Swindon is showing the BBC documentary Extreme Pilgrim – Ascetic Christianity on Wednesday, 16th September at St Mary's Church starting at about 6:30 pm.
The evening will begin with a short period of Orthodox Prayer, and then the video will be shown, followed by some refreshments and conversation.
All are welcome. This is a very interesting documentary about the experience of an Australian man who became an Orthodox monk living in the mountains above the ancient monastery of St Anthony in Egypt.