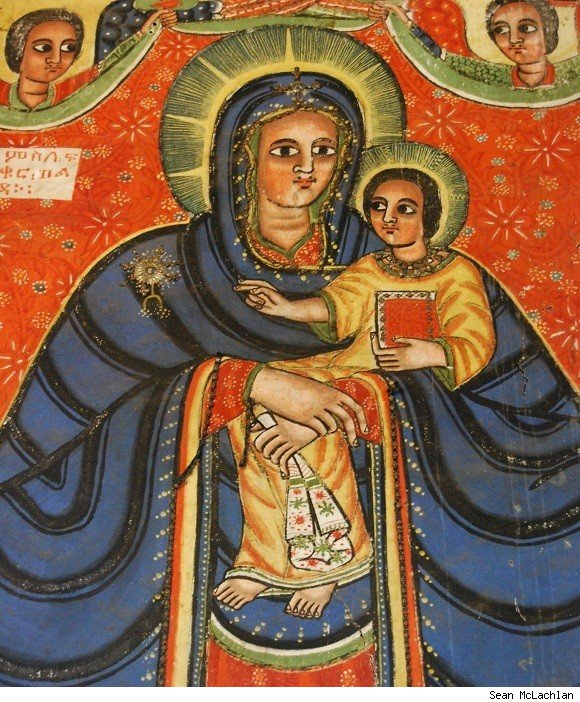 It is undoubtedly the case that the Virgin Mary remains a great obstacle to people from an evangelical background considering the claims of the Orthodox Faith to be the one Church which is the Body of Christ, established by the ministry of the Apostles in the power of the Holy Spirit. This would hardly have been the case until the 16th century, as even Martin Luther insisted on the preservation of all those traditional and ancient teachings about her, which some modern Christians certainly misunderstand and often misrepresent.
But when we are considering the Orthodox Faith we can never start from anywhere other than where we are. Therefore we must sympathetically address the concerns of those of us from just such an evangelical background when we wonder about the Virgin Mary and her place within Orthodoxy. I am from an Evangelical background myself, as you are probably aware, and trained for three years at a Bible College, expecting to spend my life in service as an Evangelical pastor. I am well aware myself of the sort of questions which I raised.
Before anything else it is absolutely necessary to state that Orthodoxy insists that the Virgin Mary is only and truly and completely a human being as we are. She has not become one of the Holy Trinity, nor is she a demi-God, neither does she exercise any divine power of her own. But we do undoubtedly consider that she is one of the most important figures in the history of salvation stretching from Adam and Eve through the life of our Lord Jesus Christ and into the times of our present experience of the Christian life.
Orthodoxy does not ask anyone to adopt the extreme and un-Orthodox views which it may be thought we hold. Rather we ask all those thinking about Orthodoxy to carefully examine what we actually believe.
We must begin with the Scriptures. In the first place we will study the words of the angelic greeting which the angel Gabriel offered to the Virgin Mary. Here is the account of the Annunciation which I am sure are well known to all…
Luke 1:26-38  And in the sixth month the angel Gabriel was sent from God unto a city of Galilee, named Nazareth, to a virgin espoused to a man whose name was Joseph, of the house of David; and the virgin's name was Mary. And the angel came in unto her, and said, Hail, thou that art highly favoured, the Lord is with thee: blessed art thou among women. And when she saw him, she was troubled at his saying, and cast in her mind what manner of salutation this should be. And the angel said unto her, Fear not, Mary: for thou hast found favour with God. And, behold, thou shalt conceive in thy womb, and bring forth a son, and shalt call his name JESUS. He shall be great, and shall be called the Son of the Highest: and the Lord God shall give unto him the throne of his father David: And he shall reign over the house of Jacob for ever; and of his kingdom there shall be no end. Then said Mary unto the angel, How shall this be, seeing I know not a man? And the angel answered and said unto her, The Holy Ghost shall come upon thee, and the power of the Highest shall overshadow thee: therefore also that holy thing which shall be born of thee shall be called the Son of God. And, behold, thy cousin Elisabeth, she hath also conceived a son in her old age: and this is the sixth month with her, who was called barren. For with God nothing shall be impossible. And Mary said, Behold the handmaid of the Lord; be it unto me according to thy word. And the angel departed from her.
We can surely begin our study of the Virgin Mary by being in agreement about all those things which we find written about her in the Scriptures. The angel says several things which I will carefully list here…
Mary is highly favoured
The Lord is with Mary
Mary is blessed among women
Mary has found favour with God
Mary will bear the Son of the Highest
The Holy Ghost will come upon Mary
The Power of the Most High will overshadow Mary
Mary will bear the Son of God
Mary responded, Let it be unto me according to your word
There are two aspects which I particularly want to focus on. Firstly, against those who suggest that God could have chosen any random Jewess to bear Christ in her womb, the angel insists that Mary has found favour with God and is highly favoured. For her to have found favour with God is to say that she lived such a life that God was pleased with her. There was that about her which caused God to choose her and no-one else. Indeed no-one else has ever received such a greeting. Therefore she is truly blessed among women.
Secondly, we can see from this passage that Mary gives her assent, offers her obedience, to receive the Holy Ghost, to be overshadowed by the Power of the Most High, and to bear the Son of God. No one else has ever been called to such a service to God.
What can we agree upon? Surely that it is proper to speak of Mary as highly favoured, or as another translation of the Greek properly puts it, full of grace. It is surely also proper to say of her that she is blessed among women. This is enough for this passage perhaps. But as the Scripture teaches us, we shall consider further what is said of Mary, full of grace and blessed among women, in a few other passages.
The Scriptures also record for us the visit of Blessed Mary (surely we should obey the Scriptures and call her this) to her cousin Elisabeth. When Blessed Mary approached the home of Elisabeth her cousin it is said…
Luke 1:42-45 She spake out with a loud voice, and said, Blessed art thou among women, and blessed is the fruit of thy womb. And whence is this to me, that the mother of my Lord should come to me? For, lo, as soon as the voice of thy salutation sounded in mine ears, the babe leaped in my womb for joy. And blessed is she that believed: for there shall be a performance of those things which were told her from the Lord.
We see here again that Mary is called blessed, blessed among women and blessed because she believed. More than this, we see that Elisabeth refers to her as the Mother of My Lord. This word, Lord, means nothing other than God. It is the Greek word kurios, which translates the Hebrew Adonai, which is the word meaning Master or Lord which the Jews used to avoid speaking the name of God.
What does Elisabeth say other than that Mary is Blessed and the Mother of God. Of course we need to examine what this means, but it cannot be avoided. These are the terms used in the Scripture to describe Mary. She is Blessed and Mother of God.
Blessed Mary then responds to Elisabeth, being filled with the Holy Spirit, nor should we be surprised since the Angelic salutation had said that the Holy Spirit will come upon you, and therefore she was inspired to prophesy.
Luke 1:46-55 And Mary said, My soul doth magnify the Lord, And my spirit hath rejoiced in God my Saviour. For he hath regarded the low estate of his handmaiden: for, behold, from henceforth all generations shall call me blessed. For he that is mighty hath done to me great things; and holy is his name. And his mercy is on them that fear him from generation to generation. He hath shewed strength with his arm; he hath scattered the proud in the imagination of their hearts. He hath put down the mighty from their seats, and exalted them of low degree. He hath filled the hungry with good things; and the rich he hath sent empty away. He hath holpen his servant Israel, in remembrance of his mercy; As he spake to our fathers, to Abraham, and to his seed for ever.
What do we find here? Firstly that Blessed Mary is a prophet, and as the Angel promised, the Holy Spirit has indeed descended upon her and filled her such that she is able to express in such a beautiful manner the Gospel of our salvation. Secondly, that she manifestly has such a knowledge of the Old Testament Scriptures that her own prophetic outburst is filled with Biblical allusions. And thirdly that she prophesies that all generations shall call her Blessed.
If we say that we believe the Scriptures then it seems to me that we must be obedient to all of these testimonies and call her Blessed and Mother of God. We may feel uncomfortable for all manner of reasons but the Scriptures are clear and the teaching of the Church is universal, in these posts we are not considering a random Jewess who merely loaned her womb to God, as some modern Christians assert. Rather, we are considering a woman whose life had led her to find favour with God, who knew the Scriptures, who was filled with the Holy Spirit, who conceived the Son of God, who is in every generation to be called blessed and who is the Mother of God.
It must be insisted at the outset that Orthodox Christians do not believe that the divinity has its origin in Blessed Mary, or in any human. God the Father is the source and origin of the Godhead, without beginning and entirely outside of time and space. In eternity the Father begets the Son and Word of God, and in eternity the Holy Spirit proceeds from the Father. We use these words because it is beyond human understanding and language to express the relations between the three Divine Persons in the Holy Trinity. But Orthodox are sure of this, the Holy Trinity, our God, has no beginning at all, and cannot be said to have any beginning in the womb of Blessed Mary.
When we use this phrase, Mother of God, we absolutely and completely reject any sense of saying that God finds his origin in Blessed Mary. How could it be so?
But this phrase remains there in the Scriptures, Mother of My Lord, of My God!
How are we to understand the Scriptures?
It is in this manner. We are not to imagine that what the Blessed Mary bore in her womb was the divine nature, as if it could be conceived and have a beginning. That which was conceived in her womb by the Holy Spirit was completely and perfectly human, of the same nature as us without sin. But when was ask WHO it was who was conceived in her of the Holy Spirit we have no answer other than that it was the Son and Word of God. But this is what we have already heard from the angel who visited Blessed Mary. Do we remember that he said…
Luke 1:35 The Holy Ghost shall come upon thee, and the power of the Highest shall overshadow thee: therefore also that holy thing which shall be born of thee shall be called the Son of God.
Who is it that is born of Blessed Mary? If we believe the Scriptures then we must surely say that it is the Son of God. If it is not the Son of God then we have not been saved at all because only an ordinary man died on the cross, perhaps a prophet, but certainly no-one with the power to save others.
Therefore we must say that Blessed Mary has borne the Son of God in her womb, not according to his divinity, but certainly according to his humanity. And in that humanity he remains always the Son of God. Who did she nurse, who did she care for as he grew into infancy and then into his youth? It was the same Son of God, who is truly and absolutely God the Word?
She was his Mother. He was born of her and took his flesh from her. There is no other name for the relationship. To deny that Blessed Mary is the Mother of God is to deny that Jesus Christ is God. Who will do that when the Scriptures themselves teach us that he is the Son of God and that Blessed Mary is his Mother.
Of course the hesitancy we find in speaking in such a manner is often deep seated and is more to do with an opposition to the perceived failings of Roman Catholicism than to any carefully considered objection to this term. But the Scriptures require us to use this phrase since it preserves that necessary belief we have as Christians that Jesus is the Son and Word of God made flesh, just as the Angel announced to Blessed Mary, and as Elizabeth greeted her.
If Jesus is not the Son and Word of God then Christianity is false, and if he is the Son and Word of God then Blessed Mary is indeed the Mother of God.
In future posts we will look at a few other passages of Scripture, and some of the writings of the early Christians to see what they say about the Blessed Mary, Mother of God.